The ClockReader and Mobile Music Touch projects are featured in the Summer/Fall 2011 issue of Developing Innovative Medical Devices on the Research Horizons.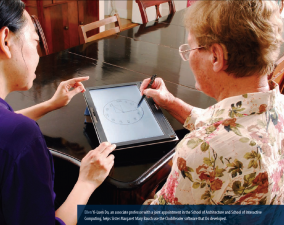 Devices Designed to Detect and Diagnose Clinical Conditions
.. page 9…
Advancing the Detection of Neurological Conditions
For another project, researchers are focusing on one of the penciland-paper tests neurologists administer to quickly screen for signs of cognitive dysfunction: the clock-drawing test. For example, an individual being assessed is asked to draw numbers on a circle so that it looks like a clock, with hands pointing to "10 minutes after 11."
To automate and standardize the administration and evaluation of the clock-drawing task, Georgia Tech researchers have designed a software program called ClockReader that allows users to complete the test on a tablet computer with a stylus pen. The software provides spatial, temporal and geometric sketch information, along with behavior data, including time required to complete the task and pressure of the pen. Physicians can also watch a video of how an individual drew the clock.
"Our software program has the potential to reduce the amount of time required to analyze the results of the clock-drawing test, which would hopefully promote more frequent administration to measure variation over time," said Ellen Yi-Luen Do, an associate professor with a joint appointment in the School of Architecture and School of Interactive Computing at Georgia Tech.
In collaboration with Allan Levey, director of the Alzheimer's Disease Research Center at Emory University, more than 30 individuals with an average age of 75 tested the usability of the software. While most of the participants reported limited or no computer experience, their drawings using a stylus were almost identical to their drawings with a pencil and paper. The researchers are currently testing the software's value to physicians.
This project is supported by the National Science Foundation, Korean Institute for the Advancement of Technology, Atlanta Clinical & Translational Science Institute, Health Systems Institute, and
the Alzheimer's Disease Research Center at Emory.
… on page 15 …
Improving Rehabilitation for Hand Injuries and Balance Disorders
Mobile Music Touch was created by Georgia Tech graduate student Kevin Huang. Currently, Starner, graduate student Tanya Markow, and architecture and computing associate professor Ellen Yi-Luen Do, are working with Deborah Backus, the associate director of spinal cord injury research at Shepherd Center, to investigate the device's potential for hand rehabilitation.
"When people are injured, they may go through intense depression," Markow says. "Music can bring them a level of pleasure and enjoyment, and that's important because folks are dealing with the
psychological aspects of being injured. It's soothing and relaxing – a way to raise their spirits."
An initial study with Shepherd Center patients indicated significant improvement in both sensory response and motor skills. Researchers found it particularly surprising because people with spinal cord injuries do not typically experience further recovery more than a year after their injuries. The researchers also were surprised that patients said they were more conscious of their hands, suggesting a change in their nervous systems.
—
Research Horizons is published three times per year to communicate the results of research conducted at the Georgia Institute of Technology.
The Summer/Fall 2011 issue can also be found here. 2011-Fall-research-horizon