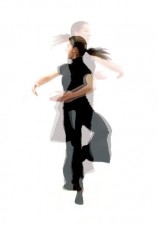 Hyun Jean Lee was PhD student in Digital Media in the School of Literature, Communication and Culture at Georgia Tech.
Hyun Jean Lee is a video and multimedia artist and media theorist whose research focuses on media aesthetics in the relationship between art and technology.
Her work has been featured at the Whitebox, NY Gallery in New York, the VAD International Video and Digital Art Festival in Spain, the Korean Contemporary Film Festival in Japan, and other selected group shows in many countries. After earning a BFA from Seoul National University, Lee, supported by a Fulbright scholarship and a Rockefeller Brothers Fund Fellowship from the Asian Cultural Council, received her MPS degree from the Interactive Telecommunications Program at New York University. She is currently teaching media arts as an assistant professor at the Graduate School of Communication and Arts, Yonsei University, Seoul, Korea.